Beautiful Stained Concrete
Economical
You can may expect stained concrete costs to be high, however, it is actually one of the best values out there. Concrete floors are invincible to tearing, gouging, molding and water damage. Unlike alternative flooring, such as carpet, tile and hardwood, our work can last for decades to come and rarely needs replacement.
Reduce Allergens
Stained concrete floors are an excellent option for those who suffer from asthma or allergies. Unlike other organic flooring options, our floors don't harbor dust mites and other allergens and won't support the growth of mold or bacteria so you can breathe easy.
Easy Care & Maintenance
To keep your new concrete floors looking their best, simply clean surfaces periodically with a dry dust mop and an occasional wet mop using a neutral-pH cleaner. It's that simple!
Stained Concrete Designs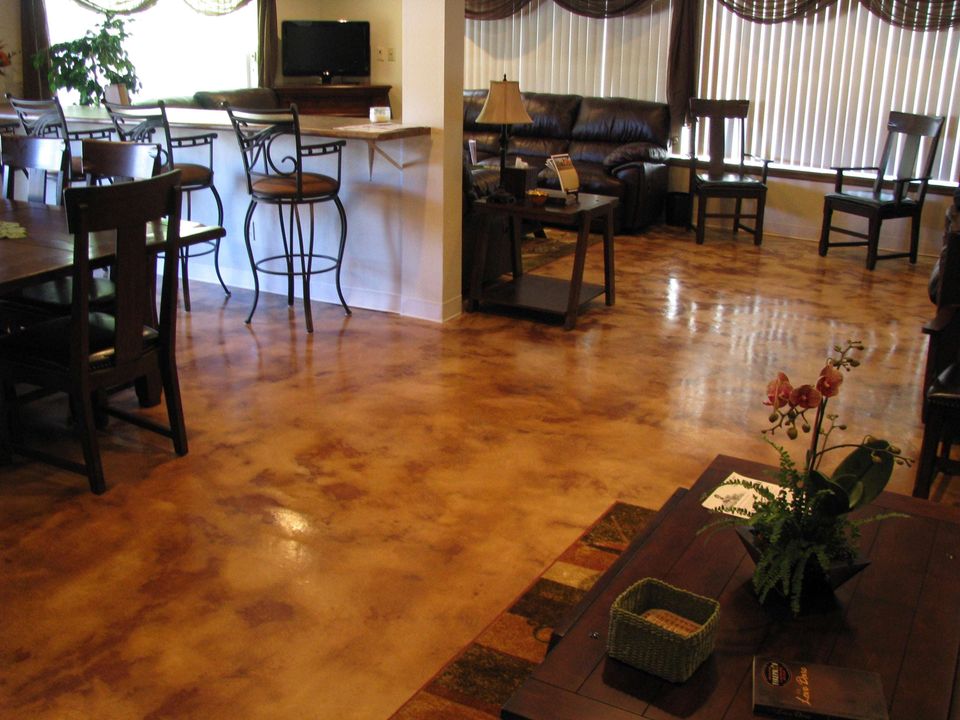 Stained concrete floors offer rich, vibrant colors that stay true over time. Stained floors are a popular choice among homeowners, business owners and designers because they are easy to maintain. The various stained concrete designs, color options, application techniques and finishes derive a unique look that can be applied on both interior and exterior surfaces. Some stained concrete ideas include patios, driveways, walkways and basements.

Stained concrete cost is one of the most reasonable options out there, especially when you consider the low maintenance and longevity of this material. We'll give your home a sense of uniqueness and artisan flair that is sure to make your friends and family envious. Stains for concrete come in two general categories: acid-based chemical stains and water-based acrylics. The results our Concrete designers can achieve are simply limitless!

Unfortunately, stain cannot hide pre-existing cracks, flaws or blemishes in concrete. If your existing concrete slab has major cracks or spalling, be sure to ask about our proprietary resurfacing process over existing concrete to get your slab in tip-top shape before stain is applied.