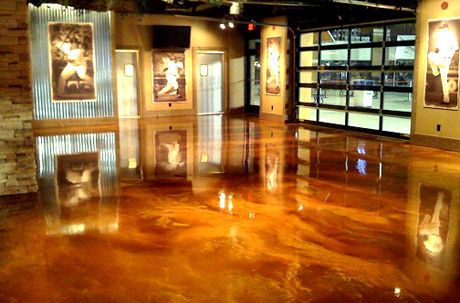 Metallic epoxy floors are quite possibly the hottest flooring system on the market, our new Metallic Marble Stain combines the industrial strength of epoxy with specially formulated metallic pigments. Above and beyond traditional concrete staining. The luster and depth of a three-dimensional color produced with this popular process will amaze everyone that enters your business or home. A satin urethane can be added to simulate a natural marble finish. The results are amazing! The beauty and depth of this floor will enhance your business or home like no other.

Slip resistance can be added as well as UV blockers, so no need to worry about ugly discoloration. The finish is a high gloss, but can be top-coated with a satin finish to create an exciting new look of modern elegance. If you are looking for comments like "WOW!" on your newly remodeled project, then Metallic Stains is the floor for you.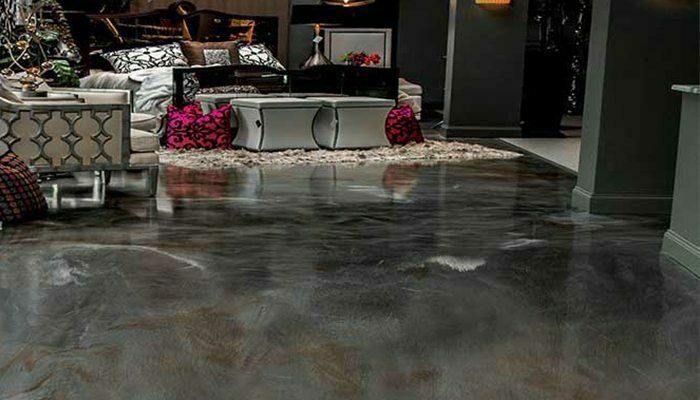 This modern concept of flooring is a unique decorative floor created from applying a solid epoxy metallic base coat, and a solid top coat in either the same metallic or a different metallic color.  An epoxy is created from combining a resin and a hardener, mixed together to create a strong, rigid material.  The addition of metallic powder creates the unique one-of-a-kind effect, providing a metallic flooring with a deep color and a high-gloss with varying visual effects.

No two metallic floor coatings are the same with visual effects that can mirror a three-dimensional look giving the illusion of ripples, swirls, craters and plasma all with a metallic shine. You can choose to use the same solid color for both the base coat and metallic resin, or you can create a two-tone effect by using two different solid colors.  The glossy shine is beautiful in many applications in both commercial and residential spaces.
 
 Features
Unique Design Effects

Smooth Seamless Marbalize Effect

Multi Colour Hues

Gloss, Satin or Matt Surface

Abrasion Resistant

Durable and Hard wearing
Come in a Wide range of Colours and Designs

Hygienic due to non-porous surface

Easy to Clean

Joint-less

Crack free

Do not chip out
Metallic Flooring Cost and Application
Metallic epoxy flooring costs a bit more than our  re
gular epoxy coatings because of two things

1) the metallic finish requires multiple coats usually requiring 4 or more coats.
2) it takes more time and ability to create the unique design that metallics will create.

You may pay a little more, but the long-lasting durability and elegant look can go a long way to attract and retain customers in certain applications.

In addition to residential spaces metallic epoxy floor coating is also ideal in commercial settings such as automotive showrooms, offices, hotel rooms and lobbies and retail establishments that are cleaned regularly Metallic flooring is also dazzling in garages and basements, although residential customers should be prepared to keep their floor clean for maximum effect.

Metallic floors gives a choice of huge decorative color spectrum by combining different RAL range co
lors to create the blend of your choice
Multi-color Overlaid Floor Framework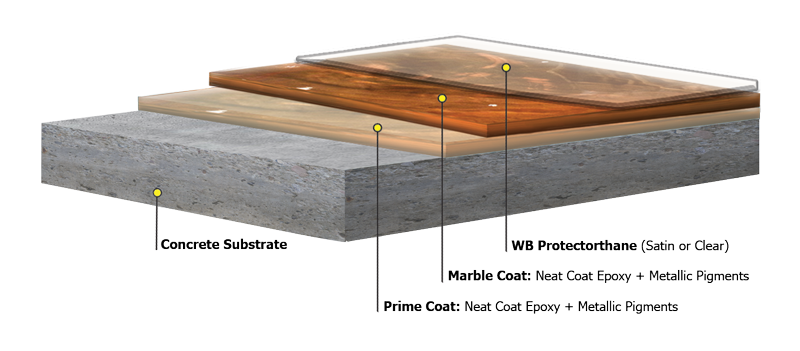 Special effects can be achieved with metallic floor coatings by using various application methods and manipulating the top coat.  With proper application, your metallic epoxy floor will provide long-lasting, durable beauty.  You will enjoy your dream floor for many years to come.

A metallic epoxy floor coating can be applied with a roller or squeegee to the floor or can be poured from a bucket or water spout.  A primer coat is required, and an optional UV resistant urethane may be included if an interior room is exposed to sunlight which can turn the finish yellow in light colors.  Using a darker color when exposed to sunlight will help to avoid a yellow tarnished look after years of exposure.
High mechanical strength and effect
Scratch safe.
The beautification is completely unmistakable
Easy to maintain.
Extremely solid; the life time will achieve many years.